I am a Tobey by birth and know my ancestors have haunted New England for centuries. I knew about the Maine, Vermont and New Hampshire connections. On my first trip to Cape Cod, Massachusetts, over 20 years ago, my parents said to be sure to check out the Tobey House in Sandwich if we drove through that town. I wasn't sure how I was supposed to recognize it as they weren't sure exactly where it was, just "somewhere near the center." As we did not have a strict agenda, it seemed safe to agree; we would – if we did.
As it happened, we did pass through Sandwich MA and we stopped and walked around the center. We toured the mill on the millpond and walked around a bit on the streets nearby. We visited the Thornton Burgess House and sure enough, there was an old Colonial house with a sign above the door proclaiming: Tobey House not too far from there! I really did not expect it to be that easy! So, Thomas Tobey was the patriarch of this branch and this was his home.
From a recent realty ad:
"Welcome to the Tobey House! This is a remarkably well-preserved first period, historic home located in downtown Sandwich. Nestled on a rolling 1.6 acre parcel with pond frontage and surrounded by conservation land that abuts the Heritage Museum. Built in the 17 Century (circa 1685), this 3,234 s.f. antique with 4 bedrooms and 3.5 baths has 5 working fireplaces, a beehive oven, several built-ins, gunstock beamed ceilings, and an amazing patio for entertaining. Recent upgrades."
The Thomas Tobey House, Sandwich MA.
On the next trip to the Cape, we stopped at an interesting and somewhat weathered- looking farm-turned-garden center, in Dennis MA and were very surprised to see a sign on the front of the barn saying, "Tobey Farm." Turns out the farm has been in the same family for 11 generations !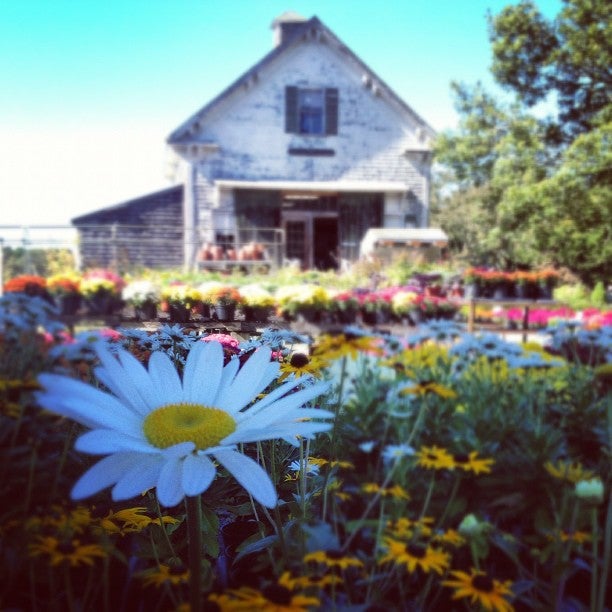 Tobey Farm, photo courtesy of Foursquare Web Site
"Oh yeah," my folks said when I got home and proclaimed my discovery. "That's a long-lost cousin." A little research later reveals, that yes, this was another branch off the Thomas Tobey tree…
Nobscussett Tower
On our most recent trip to the Cape, we discovered a Tobey Hospital in Wareham. Now I haven't made the direct connection with that yet but as the Cape is not that big and Tobey isn't a really popular last name, it seems plausible there is one. Then in Dennis MA we stumbled over Scargo Tower, a 30 foot cobblestone structure dating back to 1901. It replaces 2 earlier towers built of wood that were actually called Tobey Tower. Like those, this one is dedicated to two members of the Tobey Family.
View from the Tower
A plaque on one side of the tower states the Tobey family first settled in Dennis MA in 1678. Whew! It's not that common a name but I guess those that settled in that area, must have been very happy there because they certainly thrived!
Just when we thought we'd seem them all, we were intrigued by a gated community called 'The Belmont' in Harwich MA, near where we were staying in Dennis this spring. We were curious because, well, it was a gated and walled facility and we were, well, curious….When we googled it, an exclusive condo association was described, which replaced an earlier large Victorian Seaside Resort Hotel. The description of the hotel described it as being similar to the golden-age Nobscussett Hotel built in 1888, that had been located nearby in Dennis. Now old resort hotels do interest me. So we looked up Nobscussett Hotel and the above image appeared. The Nobscussett was built and operated by the Tobey Family !!! We did a bit of driving around and found Nobscussett Road. The nearby Nobscussett Beach was where the old hotel had originally been, but now the beach was deserted. It likely succumbed to one of the fates of most of the rest of the old hotels, fire or decay. Most never survived the depression when few people had the money to enjoy luxury resorts and they were often abandoned.
So, that is the trail of the Tobey family on Cape Cod to date ! It's been interesting. Just look out for those roots !